Cazenovia — Although some artists seek exposure by illegally plastering their works on the sides of buildings and in public places; numerous area businesses have lined up to commission Paul Parpard to hang his art up outside their stores.
An artist and designer by trade, he is an accomplished painter sculptor and carver, having created intricate handmade signs for most of the shops in Cazenovia as well as many in Manlius and Fayetteville.
Most recently, Parpard was hired to create a 25-foot-long, 8-foot-tall mural for Joey's Classic Italian Restaurant, located at 6594 Thompson Road in East Syracuse.
"I'm fortunate to have been blessed with strong hand skills. Painting, sculpting and carving have always come easily to me," Parpard said. "Originally Joey wanted a scenic Tuscan landscape. As we discussed it further, he wanted to add characteristics from different regions of Italy. It turned into an assemblance of five different themes, which was difficult, but really neat to put together."
Parpard began work on the piece by sketching out objects on a three-foot long piece of luan wood. After using acrylic paint to create the scene, the piece was sent to Syracuse Blueprint, where it was scanned. The digital image was then printed on the 25-foot sheet of vinyl and installed on an exterior wall at the Italian restaurant near Carrier Circle. Putting the finishing touches on the mural last week, Parpard added detail to some areas of the print and painted over the bolts used to secure the piece.
While he has created many pieces that are cherished by art enthusiasts and collectors, many of Parpard's pieces are kept outside, unprotected by the elements.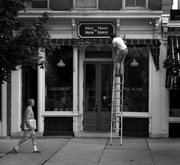 A walk down Albany Street in Cazenovia is like an outdoor gallery of Parpard's extensive career. The exhibition begins on Route 20; he designed and constructed the village's recognizable welcome sign as well as the town's seal outside the Gothic Cottage. His carefully carved mahogany signs hang from such area businesses as The Key, Cazenovia Jewelry, Stone's Throw, Gallery of CNY and the Greater Cazenovia Chamber of Commerce, among others.
(Continued on Next Page)
Prev Next
Vote on this Story by clicking on the Icon