continued — Seventeen wineries participated in this year's events, including Glenora Wine Cellars, Sheldrake Point, Red Tail Ridge Winery, Ravines Wine Cellars, Standing Stone Vineyards, Long Point Winery, Dr. Konstantin Frank Vinifera Wine Cellars, King Ferry Winemaker of Treleaven Wines, Anyela's, Beak & Skiff, White Birch, Millbrook Vineyards & Winery and Lieb Family Cellars.
Dave and Renee DeMaris, from Fairport, said they attend a many wine festivals and celebrations throughout the state, and the wine festival at Mirbeau was an excellent addition. "We love these things," they said. Halfway through Saturday, they had decided that Long Point Winery was their favorite up to that point, and they had already purchased "lots of bottles" to take home.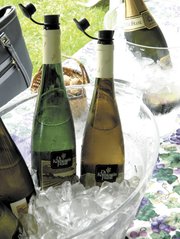 Attendee Carole Estabrook from Auburn came to the festival in 2011 and said this year's event was even better. "The grounds are beautiful, the leaves are just starting to turn, the rain held off, it's just wonderful," she said.
Rochester resident Anita Weiland, who was celebrating her 80th birthday the day of the festival with her daughter Annette Barber, also called it "wonderful: the area, the wines, everything about it."
Ed Clawson, Mirbeau food and beverage manager who also gave two wine seminars on Saturday, said he was pleased and impressed that the turnout was significantly more than the previous year. "People should really try New York state wine; they definitely have a lot to offer — and that's basically why we're doing this," he said.
Down West Lake Road at Anyela's Vineyards, where more than 200 festival goers rode the free shuttle, owner Jim Nocek gave two winery tours while the tasting room was continually filled. "It's been a great day," Nocek said. "There's been a lot of interest in our wines, some good questions and real nice tours."
Skaneateles' only winery also used Saturday to debut its newest offering, a non-alcoholic white grape cider, made from the Cayuga White grape.
Vote on this Story by clicking on the Icon