Domroe, a Liverpool High School graduate who started college at Onondaga Community College before graduating from SUNY Fredonia, echoed Quinn's sentiments.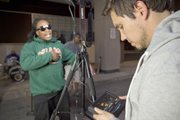 "Solon and I are making high-quality products, stuff that's MTV- and national media-ready," Domroe said. "We don't know each other, but I respect him, and I think he feels the same because both of our companies don't take any shortcuts, and we're putting out a level of quality that we both can admire."
While their current focuses are different, Quinn and Domroe share the same big-picture goal: grand-scale filmmaking. Quinn's company's first foray into full-length films was a horror flick shot in Syracuse. It is currently in the editing process, and Quinn said it should be ready in January or February 2012.
Even while making commercials, Quinn's company drops film-like undercurrents into its work. When it lends itself to the situation or product, Quinn and Co. is big on dramatic elements, treating each piece as it would a movie trailer. Social and moral relevancies also top the company's priority list.
"We like to do things that have some deeper meaning or good to them, either in what we're producing, or the companies that we are working with," said Quinn.
"It's something that we've stayed true to since we started the company in 2008."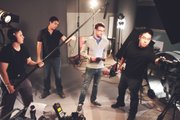 Acting on the advice of a college professor, Quinn went the horror route because the films can be shot cheaply and the genre lends itself to easier distribution. His company isn't limited to the genre, though.
"We like the work we did, but that film is really only scratching the surface of what we're planning to get into," Quinn said. "I've got plenty of ideas banging around in my head, and I'm always drawing ideas and plans from everyday experiences, music, social interactions. For me, all of what we do is related."
Vote on this Story by clicking on the Icon