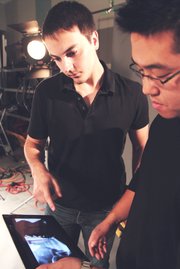 Solon Quinn and James Domroe are poised to conquer the world of cinematography, but not before they finish stomping their footprints in Syracuse, the city they love. The Salt City made them who they are — budding stars in their field — and for that, they are each entrenched here for the time being, polishing one of Central New York's oldest gems.
Quinn, 28, is 25 percent of Solon Quinn Studios, a start-to-finish commercial, music video and full-length movie production company. Quinn, Nathaniel Hurwitz, Ben Richardson and Benjamin Schechter have done several commercials for area businesses and colleges, including the city's Downtown Committee, Syracuse University and Stickley.
Domroe, 26, a self-proclaimed "one-man band," has done commercials, but his focus, for now, is music videos. He has shot over 80 in the city, while also traveling as close as New York City and as far as Rome, Italy, to flex his creative muscles.
Despite working literally a few doors away from each other downtown in the Tech Garden, Quinn and Domroe have never met. Both live near their studios, allowing them to walk to work with their eyes open wide, scouting locations for future projects. Few, if any, know Syracuse from a visual standpoint as well as they do. Domroe and Quinn are aware and complimentary of each other's work, young guns who are here to shake up the city's old guard.
"Our company doesn't shy away from competition, especially someone who is bringing fresh ideas compared to what was here," said Quinn, a graduate of Nottingham High School and the School of Visual Arts in Manhattan. "Having people around similar in age and vision is going to push us to work harder and get to a point where only guys like us are the ones being sought out by companies."
(Continued on Next Page)
Prev Next
Vote on this Story by clicking on the Icon