continued — "I think this will definitely help us reduce fertilizer costs, which have gone high recently, and we'll also get more value [from the manure]," said Tucker said.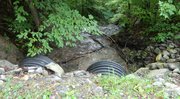 Haas said one of the benefits of the storage system is that the manure crusts over and emits hardly any smell, contrary to what most people might think. The only real odor comes in spring when the manure gets churned up in preparation for field spreading.
The bill for installing this entire storage system was paid for by the city of Syracuse, the NYS Environmental Protection Fund, the U.S. Environmental Protection Agency, and the Tuckers, Haas said. The staff of the SLWAP authored the state and federal grant applications to secure the grant funding for this conservation project, as they do all other projects in the watershed.
The Tuckers are one of about a half dozen farms near the village to have installed a manure storage tank in recent years.
But manure storage is not the only conservation project going on at the Tucker farm. The SLWAP also built a new calf facility in 2007 for the Tuckers' Jersey cows in order to promote better pathogen (germ-carrying, disease-causing microbes) management. This facility divides the cows by age and promotes better calf health, which reduces the potential for pathogens from entering the drinking water supply — the highest priority of the SLWA.
Twelve years ago, the SLWAP helped the Tuckers install roof gutters and drip trenches around the farm to collect rainwater. This helps farmers "keep clean water clean" and separate it from dirty water, preventing the mixture of clean rain water and barnyard manure, milk, and other natural pollutants, which would then drain down into the lake. The clean water is released into safe outlets within the same sub-watershed in which it is accumulated.
Vote on this Story by clicking on the Icon