Day 1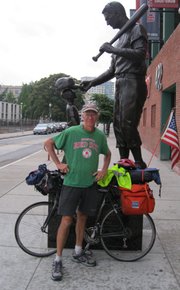 Skaneateles — As I pulled out of our driveway in Skaneateles it was just light enough to safely ride my bike. I had been planning this trip to Fenway Park, home of the Boston Red Sox, for a few months and it was now time to start my adventure.
The skies were threatening moisture but the general forecast did not look too foreboding. My Route, which I had laid out using the Delorme New York and Massachusetts Atlas and Gazetteers, was not set in concrete. My goal had been to take a fairly direct Route, miss most of the heavy traffic and not overdo it with major hills. I was marginally successful. My wife Karen was to rendezvous with me in Boston at some time yet to be determined to take in a Red Sox game.
As I passed through Marcellus the rain began to fall and on came the foul weather gear. I would take Howlett Hill Road to Onondaga, then through the Valley and intercept Rock Cut Road to Route 5. Anything to avoid the brutal hills of Route 20.
The morning started out well but I was a bit chilled as I stopped at the Hamlet Diner in Chittenango for a hot cup of coffee. The rain was on and off but my feet would remain wet for the day. It was great to be on the road again and thus far my entanglements with vehicular traffic had been minimal.
My bike, a Trek 2100 road bike which I had treated myself to after retiring three years ago, was far superior to my trusty vintage 35-year-old Peugeot PX10 but not really suited for cross-country travel. The narrow tires and the inability to fasten the panniers (saddlebags) low enough over the rear wheels because of the graphite frame made this bike top heavy and more difficult to handle.
(Continued on Next Page)
Prev Next
Vote on this Story by clicking on the Icon