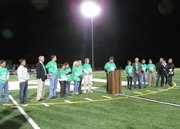 Hanlon noted that F-M is the first public school district in New York State to complete a project of such magnitude through community funding.
School Board President Marissa Joy Mims also spoke on behalf of the board of education, thanking those who put their time and efforts into the project.
"I would like to express our gratitude to our community and everyone who has supported this," she said. "It wasn't easy, but you never gave up, and as a result our seniors are standing here today on our very own version of a field of dreams."
Aside from the extended usability the all-weather turf will bring to the school district and the community, Pulver later said the project was a testament to the power of a dream.
"It really did bring a community together and bigger than that, it shows the children of our community what can be done … that dreams do come true," Pulver said. "I hope all of the athletes and students look at this as something bigger than just a field."
Vote on this Story by clicking on the Icon