continued — Landon, assisted by his wife Allison Landon and guest sous chef Lisa Jeske of Onondaga, made a "fall harvest" dish of root vegetable stew, grilled oyster mushrooms and slow-poached Black Angus beef brisket finished with a quick pan sear.
On the other side, Mollinger, assisted by guest sous chef Holly Dorsch of Skaneateles, made a vegetable ragout with fresh herbs and a marinated top round, finished with an oyster mushroom sauce.
"One hundred and fifty plates in an hour — that's what I think of it — this is not an easy task," said Tom Poppenger, a sous chef at Joelle's Bistro there to support his employer.
As the chefs worked feverishly behind their grills, event emcee Jennifer Baskerville-Burrows, author of the blog "Cookin' in the 'Cuse," and expert judge Rochelle Bilow, food and wine columnist for the Syracuse Post Standard, called out the action and kept a running commentary on what the chefs were using and how they were cooking.
The second competition, the "Chopping Block" challenge, began at 4:45 pm. and featured Leahy versus Hart with their mystery ingredient being whole-grain pasta from Flour City Pasta in Fairport.
Hart, assisted by guest sous chef Joan Christy of Skaneateles, made Chicken Galatine, which is a de-boned chicken stuffed with sausage, apples and sage, served over a warm pasta salad with greens and quick-peeled beets on top.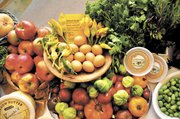 Leahy, assisted by guest sous chef Guido van der Ven of Skaneateles, made a hearty Fall potato pasta with sweet and spicy sausage, shitake mushrooms, garlic, rosemary, thyme and kale, and served with unseasoned heirloom tomatoes.
When the cooking was completed, attendees lined up to sample each dish, then cast their ballots in ballot boxes. To help inform the attendees, Baskerville-Burrows, Bilow and other guest judges also tasted the food and offered their opinions over the p.a. system.
In the end, Mollinger and Leahy triumphed with their dishes.
"This was just awesome," said Chef Landon at the end of the evening. "There's one big winner here tonight at that is Baltimore Woods."
For more photos of the EnvIRONmental CHEF homegrown event, visit our website at skaneatelespress.com or our Facebook page at Facebook.com/skaneatelespress.
Jason Emerson is editor of the Skaneateles Press. He can be reached at editor@skaneatelespress.com.
Vote on this Story by clicking on the Icon