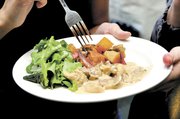 Marcellus — Joelle Mollinger of Joelle's Bistro and Ellen Leahy of bc were crowned the People's Choice champions at the inaugural EnvIRONmental Chef homegrown competition at Baltimore Woods on Sept. 18.
It was a lively event with a sold-out crowd of 150 enthusiastic participants who enjoyed local wine, beer and food as the chefs plied their trade, and Mollinger seemed to voice the consensus opinion that "everybody is really a winner here today."
The EnvIRONmental CHEF homegrown was a fundraiser for Baltimore Woods featuring a "Culinary Cook-Off" between four great local chefs: Mollinger, Leahy, former Mirbeau head chef Steve Landon, and Cazenovia's Circa head chef Alicyn Hart.
This event was held in memory of Jean Graham of Skaneateles, a longtime lover and supporter of Baltimore Woods.
"She was the quintessential enviro-chef, the real deal" said Baltimore Woods Executive Director Patty Weisse during a brief dedication ceremony of a framed photo of Graham to hang in the visitor center.
Jean's husband, Dave Graham, said "This was a favorite spot of Jean's for many years…. This is a wonderful tribute to her."
One of Jean's close friends, Phyllis Clark, smiling but with tears in her eyes, said simply of her friend, "Jean would've loved this."
The competition consisted of two cook offs, the "Chopping Block" and the "Pressure Cooker." Both featured only locally grown and produced products, as well as one "mystery ingredient" that each chef had to incorporate into his or her dish, and each final dish had to be enough to feed all 150 attendees. More than 60 local farms, producers and area businesses donated their wares to this event.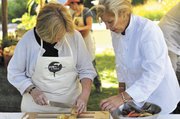 The first cook-off, the "Pressure Cooker" challenge, began at 4:15 p.m. and featured Landon versus Mollinger. Their secret ingredient was Hanta pearl oyster mushrooms. Sous-chefs to assist each chef were chosen from patron level ticket holders.
(Continued on Next Page)
Prev Next
Vote on this Story by clicking on the Icon