continued — Which leaves freshness.
Roasted beans only retain their freshness for a maximum of two weeks, several roasters agreed.
Consumers can't find beans that fresh on a grocery store shelf, they contend.
John Kuppermann's family established Smith Restaurant Supply nearly 120 years ago and was arguably the first and only independent coffee roaster when it broke into the business in the 1970s.
Even air-tight packaging won't keep coffee fresh past two weeks, Kuppermann explained, because beans release gas, which typically destroys the air-tight seal.
"Freezing it doesn't do it, air-tight that doesn't do it," Kuppermann said. "If you roast beans, you want to consume that coffee within two weeks. And by the time you roast it, pack it, ship it, and get it on the shelves, your two weeks are pretty much up.
There's no reason any neighborhood with a big enough population base couldn't support its own independent coffee roaster, said Kuppermann.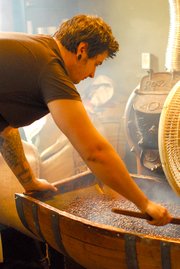 For Jesse Daino, who co-owns Recess Coffee Co. with Adam Williams, the wholesale market has provided a big growth opportunity in and outside of Central New York — their beans can now be purchased in some New York City shops.
Several other roasters provide wholesale supplies to more local stores and restaurants, though Kuppermann said it's suprising how few non-roasting coffee shops don't use locally roasted beans.
Converting those who would otherwise head to a chain coffeeshop for their fix is only growing the customer base for local roasters.
"You're not going to get everybody," Goddard said. "You're going to get some people that just prefer cookie-cutter franchises, where they can walk in and it's not challenging."
Emmet Simpson, who opened Shamballa Cafe and Coffee Roasters in Baldwinsville in 2006, said there's something intangible that those chains don't provide:
"I think an independent coffee shop provides a place of community for people," he said. "And people also remark about that. You have something special here because you can come in and become part of the conversation and really feel welcome in a small place."
Vote on this Story by clicking on the Icon