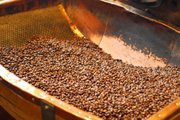 SYRACUSE — Roasting coffee beans is a smoky, dusty, hands-on affair that requires the constant attention of the roaster and comes with a long list of not-so-fun auxiliary tasks: scraping and cleaning out the roaster every month or so, hauling around 150-pound burlap bags of beans (a two-person job), the eventual bagging and weighing of the finished product. It's an expensive hobby, and going pro requires a significant investment in equipment (even used, small-quantity roasters cost thousands of dollars). They're fussy machines that require ongoing maintenance, one roaster said.
But all of this only makes Syracuse's abundance of local, independent roasters even more impressive. At press time, seven different roasters were marketing their beans in the Salt City, and the Near West Side, East Side, Eastwood, Downtown and North Side neighborhoods all boast their own roasteries (more than one, in some areas), each with their own personalities and defining characteristics.
And most roasters say there is even room for more.
Take your pick
Here's the list of local roasters, and where to find their beans:
Café Kubal
Roaster Matt Goddard's favorite beans: "They're all my children," he laughed.
3501 James St., Eastwood
601 Tully St., West Side
Armory Square café goes head-to-head with Starbucks located across the street.
Three locations in the city:
115 Solar St., Franklin Square
144 Walton St., Armory Square
424 Pearl St., North Side
Suburban cafes:
128 W. Genesee St., Fayetteville
403 First St., Liverpool
Hyman Smith Coffee
Best-selling roast: Columbian Supremo French roast.
500 Erie Blvd. East, Downtown
The Kind Coffee Company
Roasts progressively darker beans as the week goes on.
715 W. Fayette St., Near West Side
Recess Coffee Co.
Roaster/co-owner Jesse Daino's favorite roast: Ethiopian Yirgacheffe
110 Harvard Place, Westcott Neighborhood
Shamballa Café and Coffee Roasters
Roaster/owner Emmet Simpson's favorite roast: Guatemalan, medium roast.
11 W. Genesee St., Baldwinsville
West Roast
Small-batch roasting over an open wood fire.
(Sometimes) supplies Montage Café and Bar with beans, 219 S. West St., Near West Side.
(Continued on Next Page)
Prev Next
Vote on this Story by clicking on the Icon