Baldwinsville — Through familiar and unfamiliar means, the Baldwinsville football team fended off a fierce challenge from long-time rival Liverpool.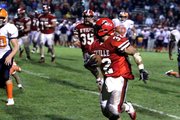 True, star tailback Tyler Rouse put up gaudy numbers in the Bees' 41-28 win over Warriors Friday night at Pelcher-Arcaro Stadium. But it was a pair of timely throws by Augie Zona that put B'ville back in control after the Warriors erased a 14-point deficit in the game's middle stages.
As the fourth quarter started, the two sides were tied, 21-21, a far cry from the 47-20 romp B'ville put together at the official dedication of the LHS Stadium turf a year ago.
Working from his own 42-yard line, Zona faked a hand-off and threw downfield to a wide-open Carter Twombly for 35 yards to the Warriors' 23. From there, Liverpool held things up, setting up fourth-down-and-nine at the 21.
Taking the snap, Zona immediately turned left and threw what he called a "wheel" pass to Shay Sargeant. Using his speed and getting a crushing block from fellow receiver Tyler Russell, Sargeant sprinted all the way to the end zone untouched, and the Bees led for good. Dean Tourtellot's extra point made it 28-21.
"We worked on that play all week, and waited for the right time to use it," said head coach Carl Sanfilippo.
Further hurting the Warriors' cause was the fact that, on its next series, quarterback Zavon Watkins went to the sidelines with an ankle injury and did not return. His replacement, Justin Capoto, could not provide the same kind of multiple threat Watkins offered as a passer and runner.
Then Rouse finished things off. With 2:50 left, he scored on a 20-yard run to make it 34-21, only to have Liverpool's Alonzo Granger return the ensuing kickoff 90 yards for a TD, quickly slicing the Bees' margin to 34-28.
(Continued on Next Page)
Prev Next
Vote on this Story by clicking on the Icon