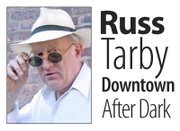 The world knew him as Jimmy Van Heusen, songwriter for the stars.
But in Syracuse he was Chet Babcock from down in The Valley.
"Chester Babcock and my dad grew up together," said Frank Malfitano, the jazz impresario who co-produced an all-star tribute for Van Heusen in January 1986 at the then-new Civic Center, downtown. "They played together as kids on the south side."
When he reached college age during the Roaring Twenties, Babcock's staunch Methodist parents sent him to the Cazenovia Seminary.
This month, the 10th Annual Jazz'N Caz festival will pay homage to Jimmy Van Heusen who attended Cazenovia Seminary before rising to stardom composing for films and Frank Sinatra.
The festival begins with a kick-off party featuring vocalist Colleen Pratt & Friends at 8 p.m. Thursday, Sept. 22, at the Brae Loch, and continues Friday and Saturday evenings at the Catherine Cummings Theatre, 16 Lincklaen St., with headline sets by New Orleans pianist Henry Butler and the Gap Mangione Big Band, respectively. Admission is free, but donations are accepted; cazenovia.edu/jazz, 655-7238.
Mirthful musicality
Van Heusen, one of the most accomplished melody men of the 20th century, was born Edward Chester Babcock on Jan. 26, 1913, in Syracuse, to Ida and Arthur Babcock. His close friends called him Chester or Chet.
From early on, he'd entertain audiences with his mirthful musicality, though not everyone always dug his act. He was expelled from Central High in Syracuse after performing the satire song "My Canary has Circles under His Eyes."
"The student body loved the song, but the teachers thought otherwise," said Sylvia Needel, a writer for the Cazenovia College Office of Communications. Needel researched Van Heusen's life and learned the story behind his pseudonym.
About 1928, when Babcock was working as a radio disc jockey, a friend named Ralph Harris helped him create a stage name so that Chet's father, a Syracuse building contractor, wouldn't learn about his radio program. Ralph glanced out the window of the 11th floor of the Hotel Syracuse and saw a billboard advertising Van Heusen collars. Great last name! "Well, how about my first name?" Chet asked. Ralph's favorite cousin was named James, and the rest is pop music history.
(Continued on Next Page)
Prev Next
Vote on this Story by clicking on the Icon