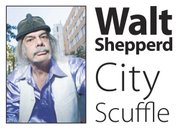 SYRACUSE — State Assembly Member Sam Roberts schmoozed the nearly full house at the Common Council Chambers last week, mostly gathered to express support for the Ida Benderson Senior Center they attend regularly on Salina Street between Fayette and Washington. The meeting of the Council's Parks Committee had been called to formally announce the Center's closing, although the buzz had been out for weeks.
"The complexion of this issue is changing," Roberts said, noting that his tongue was in his cheek. "You can't slam the mayor for doing what she had to do. She loves us all. It's not just about Ida Benderson. It's about Southwest Community Center and the Boys and Girls Club." But as the crowd began to call out questions, Roberts quipped, "This is not my thing, not my building. I don't want to get thrown out."
As the meeting progressed, two separate worlds emerged in the building, with some committee members clearly sympathetic to the Benderson seniors' calls to keep their center open. The mayor's Chief of Staff Bill Ryan and Parks Commissioner Baye Muhammad sat resolutely, insisting the administration's proposal to merge the Benderson folks into the Salvation Army's senior program was a done deal.
"We're not closing the center," Baye maintained, "we're just shifting it down the street." (The Salvation Army center is at the southern end of downtown, just past the old Central Tech High School.) "It's a better situation." Ryan noted there was no item in the coming city budget for the exorbitant $120,000 rent perpetuating a sweetheart deal struck during the Alexander administration.
Ryan also established that the center would be closed no matter what the result of a Council vote (now postponed) on whether to approve the proposed collaboration with the Salvation Army, prompting Councilor Nader Maroun to ask, "Why are we going through this charade?" Councilor Pat Hogan, who represents many of the Benderson seniors, said he was "very disturbed" by a process that didn't attempt to involve his constituents.
(Continued on Next Page)
Prev Next
Vote on this Story by clicking on the Icon