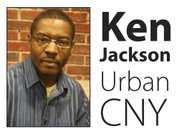 SYRACUSE — Since almost succumbing to pneumonia two years ago, I greet each day differently than most. After being unconscious for 10 days on Diprivan and being on a respirator, there is no weather formation that can affect my mood. If it's raining, so what? Hot? Oh, well. And if it snows heavily I revel in the beauty of the piles of freshly fallen snow and marvel at the times when wet snow clings to the branches of the trees.
Coming close to death has an impact that's lasting and transformative reshuffling your deck of cards that you just knew how to play. But as many good plans are interrupted, changed or completely obliterated, we have the opportunity to either grumble or triumph, wallow in self-pity or re-dedicate ourselves to being the most content person we can be. I don't believe in "happy" and it seems fake to be "up" all the time — but content is a nice, warm, comfortable place to be. Most perpetually happy people cry in the dark just to have the energy to put on a happy face.
Those who regularly follow this column may say, "oh boy, there goes Ken preaching again."
I'm not preaching. I'm just grateful to still be here. I wish more people would embrace that feeling. No one said that life was going to be easy or fun or, as Abraham Lincoln once said, "most people are about as happy as they make up their minds to be."
What's your choice? I've turned off the talking cable heads that babble about the terrible economic mess our nation is in. I've turned away from people who are constantly saying the racist sky is falling or there's a white boogeyman under my bed. There are those who've questioned the motives for some of my columns in search for some hidden agenda. Search on, there's nothing there.
In spite of anything that's happening in the world or around the block, I found that little space inside where nothing matters whether I lost everything that's worldly. Having your health is the most important thing to be grateful and thankful for and until that fateful September day in 2009, I had taken that for granted. Not anymore, I'm celebrating my second birthday, my second chance at life and I'm not wasting one moment of it.
Ken Jackson is the editor of Urban CNY and a weekly columnist for The Eagle. Reach him at kjackson@urbancny.com.
Vote on this Story by clicking on the Icon