Cazenovia — Finding a parking space is about to get a little easier downtown. An easement granted by the Cazenovia Public Library has allowed village officials to approve the construction of a pedestrian walkway, connecting the parking lot behind the library to Albany Street.
At the Sept. 8 meeting of the Cazenovia Village Board, trustees outlined the project, which is expected to begin this week.
"We're very excited, because we think this will make the parking area behind the library much more accessible and on peoples' radar, in terms of everyday usage," said village mayor Kurt Wheeler. "My appreciation goes out the library and their board. We look forward to having that constructed in the next couple weeks, granted the weather clears up."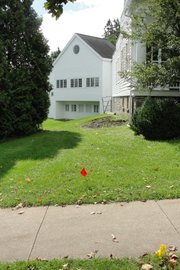 Village Department of Public Works employees will construct the five-foot-wide, primarily concrete walkway on the eastern side of the library.
Lines will then be painted on the parking lot, organizing the space and allowing for numerous free, all-day parking spots. Work is expected to last about two weeks.
"We've been studying this issue for the past 40 years. I look at some kind of expenditure on the topic of parking, as an investment in our community's vitality. I think the time for study has just about ended, and the time for action is upon us."
Trustee Peggy Van Arnam informed the board and audience members in attendance that the Village Parking Committee has once again begun to meet regularly, and hopes to hold a community "parking summit" in the near future. The group is in the process of completing an assessment of square footage of the two-block Historic Downtown area and plans to promote parking in the library lot, by creating and distributing informational materials to local residents.
In the past, frustrations have risen from residents, local shop owners and visiting customers over coveted parking spots on Albany Street. Courtesy parking tickets are currently given to first-time offenders, as a friendly warning. Those who receive more than two tickets in six months are charged $20.
(Continued on Next Page)
Prev Next
Vote on this Story by clicking on the Icon