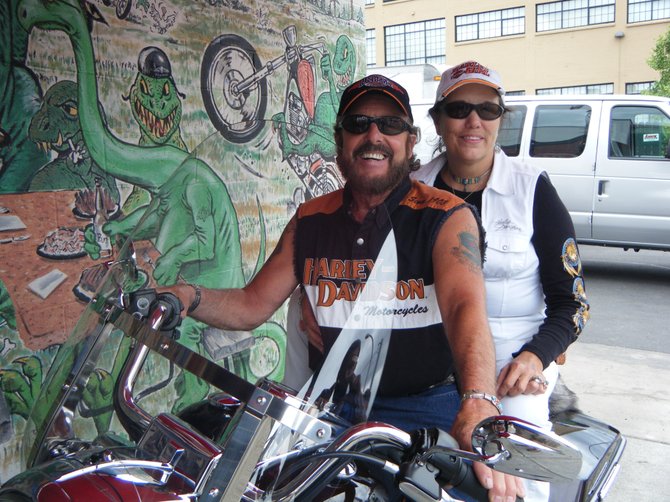 continued — Hunter-Grant herself saw the illness firsthand as she battled uterine cancer in 1993 and ironically, breast cancer in 2007. As of today, Hunter-Grant said she is "so far, so good."
Although she had known Barnes for close to 30 years, Hunter-Grant said their paths crossed again sometime following the death of Fran and the two eventually began a relationship.
"I never dreamed I would be marrying my best friend's husband, but I know she is smiling down right now knowing that he's happy, and I'm happy," said Hunter-Grant. "I think she had something to do with us meeting again."
She noted that Fran had always joked that Hunter-Grant was more compatible with Barnes — she was a fan of motorcycles and fast cars, and Fran wasn't.
"But he loved her dearly," said Hunter-Grant of Barnes.
The unfortunate events the two had experienced with family members and cancer encouraged Barnes and Hunter-Grant to begin participating in events such as Ride for Research. Aside from Carol Baldwin's event, the couple also takes part in Golisano's Miracle Ride, and the March of Dimes Bikers for Babies, among others.
Hunter-Grant said the Sept. 11 ride meant a lot to her not only because it benefits a cause that has affected both her and Barnes' lives, but because despite the tragic events that took place 10 years ago, the day can still spawn positive outcomes.
"You have to look at this day as not just a tragedy," said Hunter-Grant, who has children that have since served in the military. "A lot of good things have happened on that day since then."
Hunter-Grant said while "cancer" is a scary word, it's ironically the thing that has brought her and Barnes together.
"Out of sadness of Sept. 11 and cancer, happy things can happen," she said. "And this is a happy thing."
Vote on this Story by clicking on the Icon