Each class is awarded one blue ribbon winner to then be evaluated by all four judges to decide the division winner of the day.
Jackson said on Labor Day, every division winner is invited back to be evaluated by judges who have yet to take part in the competitions.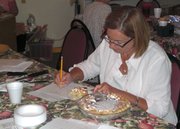 "The judges are choosing the best of the best," said Jackson. "Is this the best pasta it could possibly be, and is it a better pasta than what the jam could be? It's not really comparing apples to oranges because it's comparing the highest standard of each thing."
Linda Traynor, who is in her fourth year of judging the state fair, said it's the creativity of the dishes that always astonishes her.
Traynor noted one of the creative items she tasted Tuesday was a pumpkin and peanut butter pie.
"I would never think to put that together, but it was just amazing," she said.
Aside from 37 years of experience as a family and consumer science teacher, Traynor said she has also spent the past five or six years judging the culinary competition at the Monroe County Fair.
Before retiring from the Pittsford School District, Traynor was the President of New York State Family and Consumer Science Teachers Association and was also named teacher of the year in 2005. Those titles are what ultimately brought her to judging food at the state level, she said.
Although Traynor evaluated the vegetable pies Tuesday, she also helped with the some of the other categories.
"It's kind of a team effort," she added.
While Terrill Curran may not have any credentials on paper, the state culinary judge of five years said her long-time experience of cooking and baking for five children has given her all the credentials she needs.
Aside from judging competitions, Curran also partook in the event last year, scoring 97 out of 100 on her three-cheese cheesecake.
Renee Taylor is a contributing writer for The Eagle.
Vote on this Story by clicking on the Icon