Jamesville — The following column was submitted by DeWitt Police Chief Eugene Conway in response to a story that ran in the Aug. 30 edition of the Post-Standard following up on a fatal car crash that occurred Aug. 21 in Jamesville. The victim of the crash was recently identified as Leon D. Williams, Jr., 16, of Syracuse.
I feel that it is important to add to the story in Tuesday's Post-Standard relative to the fatal car crash in Jamesville and the headline of whether it was a fluke or problem. The reality of the situation that Sunday morning is that a response time of 13 seconds versus 13 minutes would not have made a difference in the outcome of the life that was lost by the driver of that vehicle. The first DeWitt police officer arrived within 4 minutes of being dispatched and realized as those who called 911 to report the crash that there was an instantaneous fire that consumed the vehicle.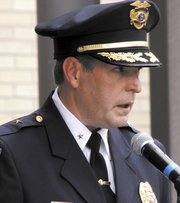 The severity of the vehicle impacting the tree resulted in anyone's actions to be futile ones. And while the horror of those watching knowing that they could not help is haunting, it is a feeling that those same firefighters and other emergency responders experience all too often. How many have taken into consideration how those firefighters felt that morning when they realized their own helplessness in performing a function that they are willing to do whenever the call goes out?
Equally as important to point out is what else they do when they arrive on a call. That day they stayed on scene for several hours making sure the fire did not reignite, provided a light source from their truck so that the crash could be properly investigated, helped in keeping the road closed and were willing to extricate the victim should it have been necessary. This is not unique to the call that morning but common to what all fire departments are willing and ready to do should they be asked. They could have been doing many other things that Sunday and most likely their day was altered, but they stayed. Law enforcement certainly knows how valuable they are and the importance of their role at an emergency scene.
(Continued on Next Page)
Prev Next
Vote on this Story by clicking on the Icon