Cazenovia — Sixty miles in any direction can take a person many places. Cazenovia resident and breast cancer survivor, Lori McGee, hopes walking 60 miles, along with thousands of other breast cancer supporters, will take them closer to finding a cure for the life-threatening disease.
She plans on walking 60 miles over the course of three days in late September, as part of the 2011 Susan G. Komen Washington, D.C., Three-Day for the Cure.
"This is my first year participating in the Susan G. Komen Three-Day for the Cure. Through my participation in this event I know I am making a personal impact on the breast cancer movement," McGee said. "Three years ago, I was diagnosed with breast cancer. I am here today because of the research funded by organizations such as Susan G. Komen for the Cure. I am very lucky to be here. Unfortunately too many others have not been as fortunate in their battle with breast cancer. I chose to walk in this event as a way to give back and help others have the best chance in their battle, because everyone deserves a lifetime."
The Susan G. Komen Three-Day for the Cure Series is being conducted in 14 major U.S cities between July 22 and Oct. 23.
After months of fundraising and training, the male and female participants walk about 20 miles at their own pace each day, for three days, to raise awareness and funds for breast cancer research and community-based breast health and education programs.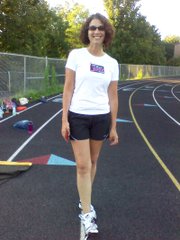 The Washington walk is slated to begin the morning of Friday, Sept. 23 and conclude with a closing ceremony the evening of Sunday, Sept. 25. The walk through the capitol city is proving to be the largest, with more than 3,000 participant currently signed up. Each walker is supported by coaches, and online assistance provides aid in all aspects of training and fundraising. In addition, ongoing encouragement is offered through clinics, meetings, training walks, multi-member teams and buddy walkers.
(Continued on Next Page)
Prev Next
Vote on this Story by clicking on the Icon