Baldwinsville — A 20-year tradition continues this week as The Museum at the Shacksboro Schoolhouse holds its annual used book sale on the museum grounds at 46 Canton St., Baldwinsville. More than 10,000 books will be offered during the five-day event, which opens at 5 p.m. Thursday, Sept. 8.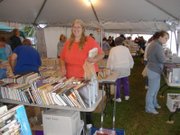 Since its inception in 1990, the museum book sale has grown from a one-day event staged on four picnic tables and assorted crates to a five-day book lover's extravaganza with more than 50 tables holding material that has been presorted into more than 40 categories. Volunteers restock the tables throughout the sale until all books are on display.
A separate area under the tents houses a "specials" category. This includes books that are of local interest, fragile, collectible, oversized and/or unusual.
Sale hours are from: 5 to 9 p.m. Thursday; 9 a.m. to 9 p.m. Friday; 9 a.m. to 5 p.m. Saturday and Sunday; and 9 a.m. to 8 p.m. Monday. The rain or shine event is held under large enclosed tents adjacent to the museum peony garden. Admission is free. Credit cards are accepted.
Proceeds from the sale benefit Baldwinsville's local history museum. The museum is open year round and offers local history information, changing exhibits, programming and special events throughout the year. The museum also maintains a significant heritage peony garden and presents Peony Fest each June. A book and gift shop featuring items of local interest is open during museum hours throughout the year.
For more information, call the museum at 638-2452 or visit shacksboromuseum.com.
Vote on this Story by clicking on the Icon