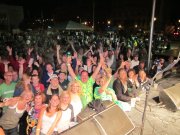 SYRACUSE — Guinness Syracuse Irish Fest
The Guinness Syracuse Irish Fest kicks off Friday, Sept. 9, with Syracuse's own Flyin' Column holding forth in Clinton Square. Admission is free.
The Column -- which plays waltzes, sing-alongs and Irish ballads -- includes leader/guitarist Bill Delaney, banjo man Don Meixner, bassist Jimmy Flynn, drummer Mike White and fiddler Diamond Joe Davoli.
Friday's schedule climaxes at 9:45 p.m. with an upbeat performance by the Glengarry Boys from Canada. Events on Saturday, Sept. 10, begin with an Irish-language Mass at 11 a.m., followed by step dancers, lectures, exhibits, workshops, food and children's activities. Saturday's headline performers are Searson, The Elders and CNY's own Causeway Giants; syracuseirishfestival.com.
Golden Harvest Festival
Late summer is one of Central New York's most spectacular seasons. The annual Golden Harvest Festival at Beaver Lake Nature Center in Baldwinsville celebrates the season with an arts and crafts show featuring more than 100 craftspeople, nationally known blues, folk and jazz musicians, puppet and magic shows, storytelling and a petting zoo. Local groups sell seasonal foods such as fresh pie, doughnuts and homemade cider, along with barbecued chicken, ribs and corn on the cob.
Entertainers include the Westcott Jugsuckers, Michael Crissan, The McCreas, Jesse Collins, Los Blancos, the Lock 52 Jazz Band and Lisa Lee.
The festival runs from 10 a.m. to 6 p.m. Saturday, Sept. 10; and continues from 10 a.m. to 5 p.m. Sunday, Sept. 11. Admission costs $5 per person, $1 for ages 6 through 17, and free for kids 5 and younger. Parking is free.
Beaver Lake is located off Mud Lake Road, off Route 370, about four miles west of Baldwinsville; Onondagacountyparks.com; 638-2519.
Vote on this Story by clicking on the Icon