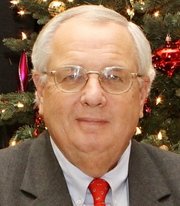 DeWitt — John "Jack" Dooling is making his first run for public office.
Dooling is one of six candidates running for three DeWitt Town Board spots in the Nov. 8 election. They are: Dooling; incumbents Kerry Mannion and Ken Andrews; and Sam Young, Tracy Gillen and Scott Whipple.
A retired purchasing agent for Crouse-Hinds, Dooling has volunteered at Vera House and Loretto since 2006.
"I am running for office because I am retired and have the time, energy and desire to help the people of DeWitt," Dooling said. "I have been in the business of helping people since I started coaching youth sports in East Syracuse 40 years ago."
Dooling is a decorated volunteer, having received multiple awards for his service at Vera House and Loretto. In June 2010 he received the Sister Mary Vera Award for his dedication to eradicating domestic violence locally. Dooling helped more than 100 abused women get orders of protection, custody papers and proper financial support through Vera House.
Dooling has received endorsements from the Democratic, Conservative, Working Families and Veterans parties.
"I hope to accomplish a difference on the Town of Dewitt Board by using my vast procurement experience in purchasing management to save the taxpayers of DeWitt on their purchases, bidding practices and consolidation efforts over the next four years," he said.
Dooling has lived in DeWitt for 42 years. He and his wife, Pam, have five sons and seven grandchildren.
Vote on this Story by clicking on the Icon