Baldwinsville — The Onondaga County Legislator seat for the 13th district, representing the towns of Van Buren and Elbridge, as well as the northeast corner of the town of Camillus, is open for election this year. Two candidates, incumbent Robert Warner and opponent Derek Shepard, are competing for the Republican nomination in the Sept. 13 primary.
The Baldwinsville Messenger recently interviewed both men to get a better understanding of each candidate's qualifications and viewpoints. The following are responses from Shepard: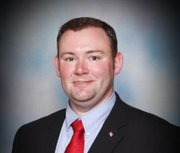 Derek Shepard
Address: 127 Northrup Blvd.
Education: B.A. in political science and psychology, Syracuse University 2000; Juris Doctor Candidate, Syracuse Law (May 2012)
Work Experience: Executive director of West Side Manor Assisted Living and Parkrose Estates Retirement Community
Political Experience: I was elected to the Van Buren Town Board and have served from 2008 to present. I serve on the Parks & Recreation Committee and chair the Personnel Committee.
Community Involvement: I am the current president of the Greater Baldwinsville Economic Development Agency, Van Buren's Municipal Representative on the Canton Woods Senior Center Board of Directors, and past-president of the Federalist Society for Law & Public Policy at Syracuse University Law.
What do you think are the major issues facing the county? How do you plan to address those issues?
The biggest issues facing the county are clearly the property tax burden and state mandates driving county costs. The Post Standard projected that taxes in Van Buren would increase 63 percent this year and homeowners like me have already begun to see this heavy cost reflected in our tax bills and escrow payments. As county legislator, I will employ the strategies we have used in the town to stabilize and reduce tax rates over the last four years, such as forcing aggressive competition between our vendors and consolidating operations within county government or with other governing bodies.
(Continued on Next Page)
Prev Next
Vote on this Story by clicking on the Icon