SYRACUSE — Seventy-nine dollars.
That's how much it cost a city of Syracuse resident to claim his dog after it had been loose, unlicensed, and responsible for brutally attacking another dog
so badly that the other dog had to be put down.
At approximately 4:40 p.m. Thursday, Aug. 11, my wonderful dog, Rocky, was attacked and killed by a large pit bull running loose on the city's East Side. Rocky, a Rottweiler, was 12 years old and already fighting age-related ailments in his back, a knee and a hip.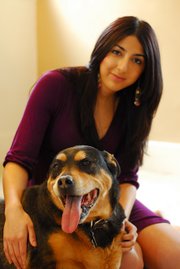 Rocky was smelling some flower bushes in my next-door neighbor's yard when this dog started a full-out brawl in the street that lasted for about 25 minutes. After lunging at me, the dog turned its attention to Rocky, who, in his honor, risked his own life to save mine.
I never left Rock's side once the fight began, which prohibited me from calling 911.
Numerous bystanders watched, but my neighbor Andy jumped in after a few minutes to help me.
We tried using large pieces of wood to pry the dog's jaw open to release Rock's neck from its grip. Instead, the dog broke off two pieces of wood in its mouth -- nothing was working.
During this fight I noticed two bystanders dialing 911 and yelling to me to ask, "Do you know whose dog that is?" No one, among the dozen or more onlookers said they knew the dog's owner.
Finally, Andy got the idea to use a golf club for the dog to bite down on. When he told me to get away, I was in shock -- the fight was actually over? I turned around and finally saw a black-and-white parked in front of my house.
I held Rock's chest up as I ran away from the other dog and into my house. His legs were so badly mangled he couldn't walk. I rushed as the dog escaped Andy and chased me up my front stairs. I was trapped in my home until Syracuse Police deemed it safe enough for an officer to unlock my car for me and give me a green light on when it was safe to exit my home with Rock in my arms.
(Continued on Next Page)
Prev Next
Vote on this Story by clicking on the Icon