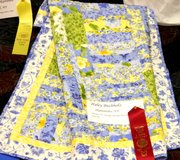 SYRACUSE — Skaneateles residents are putting up a good showing in state fair competitions this year, with nearly two dozens ribbons won in two weeks.
As of press time, awards in winemaking, quilting, sewing, drawing, photography, horsemanship, and rabbit and cattle breeds had been won by more than a dozen local residents.
Local musician Joe Whiting also performed a cooking demonstration in the Wegman's kitchen on Wednesday, Aug. 31.
The first awards by Skaneateles residents were brought home by Bill and Janet Aaron in the amateur winemaking competition. On Sunday, Aug. 28, they received silver medals for their 2009 Chambourcin and Concord, and two bronze medals for their 2009 Chardonel and Marechal Foch.
"I'm always happy to win medals," said Bill Aaron, whose been making wine for about 11 years and submitting items to the state fair since 2002. "It's just fun to see how you match up with all the competition."
In the arts and crafts competitions, Amalie Quinn received a 1st place ribbon in the quilting division for her miniature quilt (15 inches square) and a 4th place finish for her pieced quilt (made by sewing different pieces of fabric together).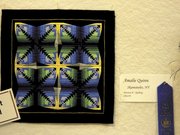 Quinn's queen-size pieced quilt is a "triple Irish chain" style, made for her daughter, Susan Quinn-Pruess, for her wedding, and had to be sent up from New York City to be entered in the fair.
Quinn said it felt "very nice" to win the ribbons this year. "I've had other quilts accepted at the state fair, and it's always just a kind of a reaffirmation that somebody else appreciates what you're doing," she said.
Also in arts and crafts, in the teenage sewing, knitting & crocheting competition for home/personal accessory, sewn division, 14-year-old Haley Buchholz received a 2nd place finish for her first machine-sewn quilt.
Buchholz, who will be a freshman at Skaneateles High School this fall, said her grandmother owns a quilt shop in Marcellus and suggested that Haley do a project and submit it to the fair. Haley said she used a sewing machine at her grandmother's shop (although she received no adult help) and made her quilt in about two weeks.
(Continued on Next Page)
Prev Next
Vote on this Story by clicking on the Icon