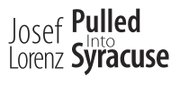 SYRACUSE — Unassuming in its appearance on a desolate block in the city's East Side, little do many know that Chorong House offers some of the most authentic ethnic food in all of Syracuse.
With the exception of some of the local Korean-speaking community and a handful of undaunted restaurant goers, most Syracusans don't know of its existence or of the wonderful culinary delights happening inside.
Chorong House has an interior that feels more like Grandma's kitchen than a restaurant. The tables are in full view of stoves, so you can smell and hear the food being cooked next to you as you peruse the menu.
The menu, written in both Korean and English, is easily legible and helped with accompanying pictures of specific dishes. Highlights include bibimbap, dumplings, spicy stews, and traditional Korean noodle dishes. 
Soju, a sweeter alcoholic drink similar to vodka that is hard to find in Syracuse, pops up in the drink selection as well as a few canned sodas and beers displayed in a glass cooler near the entrance.
The order
Vegetable pancake: $8
Beef Bulgogi: $15
Total Money Spent with Tax & Tip: $27
First up were the Korean side dishes, or "banchan." My favorite being the green onions, which packed a good amount of chili heat and tasted extremely fresh.
Also excellent was the refreshing watercress and the fermented napa cabbage, or kimchee, which was pleasantly spicy, not overly pungent, and very addictive.
Mac salad, a reflection of the Army surplus rations in Korea, found its way to the table containing perfectly cooked macaroni, chopped green pepper, and a homemade creamy mayonnaise that was surprisingly delicious. Overall, the banchan were all light, flavorful, and miles above any banchan remotely comparable in Syracuse.
An appetizer of vegetable pancake arrived next, complete with a little charring, caramelization, and grease (the good kind) on the outsides. Tucked with fresh scallions and carrots, it had a doughy and lightly airy consistency and a perfect, bubbly crunch on the outside. It was outstanding, but the entree of beef bulgogi stole the show.
(Continued on Next Page)
Prev Next
Vote on this Story by clicking on the Icon