Baldwinsville — Justin Torres has a story to tell.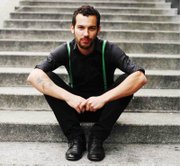 The 31-year-old Baldwinsville native, who currently lives in San Francisco, will return to Central New York this month to promote his semi-autographical debut novel, "We The Animals," the story of three brothers tearing their way through childhood.
Torres, like the boys in his book, has a Puerto Rican father and white mother who met in grammar school, and were the parents of three boys before they turned 19. Torres' own journey took him from a difficult childhood, to a forced stay at a state-run institution (where his English teacher, Mrs. Iodice, would bring the class so she could continue to teach him), to a series of stabs at jobs and college. Bookselling and a love of writing led him to his current position as a Wallace Stegner fellow at Stanford.
On Sept. 16, Torres will visit the Fayetteville Manlius classroom of his favorite former English teacher, with whom he has a very strong bond. Then, at 2 p.m. Saturday, Sept. 17, Torres will read and sign books at the Barnes and Noble in Clay.
The Baldwinsville Messenger recently caught up with the author to learn more about his book and influences.
What influenced the title of your book, "We The Animals?"
Well, three boys have a certain wild energy. If allowed, they'll go feral quickly. The parents too, are compared to animals by the narrator and the family is defined by a certain unpredictability, impulsiveness, violence and passion. I wanted the title to telegraph that rambunctious and slightly dangerous spirit. But, my hope is that by the end of the book, the reader resists the claim of the title; my hope is that these characters will reveal themselves as all too human.
Why did you decide to write a semi-autobiographical book?
I started writing for myself, telling myself stories I needed to hear. I would bend events to make them into art, to make them beautiful. I was not interested in writing a memoir, but I was interested in representation.
(Continued on Next Page)
Prev Next
Vote on this Story by clicking on the Icon