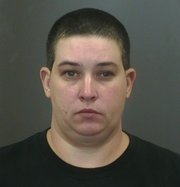 East Syracuse — An East Syracuse woman has been charged with felony conspiracy to commit murder, DeWitt police said.
According to Chief of Police Eugene Conway, Marnie L. Nappi, 39, of 4709 James St., East Syracuse, paid more than $20,000 to at least three people in an attempt to have her girlfriend's husband, David Gardner, of Minoa, killed.
Nappi admitted to having a relationship with the Gardner's wife, Conway said.
"She wanted to further that relationship, and felt that in order to do that she needed to have the husband out of the picture," he said.
The investigation started late Tuesday night after an out-of-state acquaintance contacted DeWitt police about Nappi's intentions. Nappi had told the acquaintance about her murder plot over the phone, Conway said.
Police informed Gardner of Nappi's intentions, and he stayed at a hotel until her arrest.
Police set up an undercover investigation for Wednesday night, and Nappi was taken into custody after agreeing to pay an undercover state trooper cash to have Gardner killed, Conway said.
Police believe that none of the people Nappi paid to commit the crime had any previous experience or means to follow through.
Police tracked down one of those people, who worked with Nappi at a pizza place, Conway said. The co-worker told investigators that he took Nappi's money with no intention of committing the crime.
Conway said it is not a crime to take money from someone who is trying to have someone killed and not report it to police.
"Other than morally," he said. "There's no crime for not coming forward with that."
Nappi is believed to have been plotting to have Gardner killed since January, Conway said. She told DeWitt Police investigators that she had some means to the $20,000-plus through family members' bank accounts.
"She had access to money through her family members," Conway said. "But no one in her family knew what she was taking the money for."
Nappi is currently in custody awaiting arraignment in Town of DeWitt court. The investigation is continuing as police attempt to locate other people involved in the case, including those who may have been solicited by the defendant.
Vote on this Story by clicking on the Icon