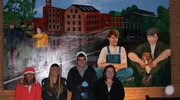 Mentors
Donna Nicholas
Tara Charles
Students
Leda Brittenham
Alanna Todd
Shane Carey
Olivia Higgins
Gail Canne
Rachel Marra
Ryan Long
Alaina Ylitano
Megan Colle
Jessica Stottlar
Sophia Beratta
Matt Tompkins
Kyle Winks
Marcellus — The first snowfall of the year didn't stop Marcellus village and town residents from unveiling the second community mural, Thursday, Oct. 27.
Town and village residents and officials joined the artists as the large painting depicting a railroad area was unveiled at its new permanent home, the east side of Marcellus Town Hall.
The murals are a part of a series of art to be created and installed in Marcellus. The art is a vision of former Mayor Fred Eisenberg, who hoped to beautify the village and attract visitors.
The mural, which depicts the railroad and creek, shows two children and two men with a dog. One of the students who helped create the mural, Shane Carey, was used as a model for one of the adults in the painting.
"I feel like we're going to leave a mark in the village," Carey said.
Four of the students who worked on the mural were present at the unveiling.
Vote on this Story by clicking on the Icon