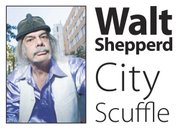 Khalid Bey doesn't really like politics as it is. During his campaign for the 4th District seat on the Common Council, he has found that the phone banking and door knocking is mostly pursuing people who have been alienated from the process. He sees the product as a wide gulf between the office holders and the citizens who hardly get to know them. Helen Hudson, running for councilor-at-large, loves the experience. She finds people happy to talk when she rings their doorbell. "One lady's dogs curled up on my feet," Hudson recalls. "She said, 'They like you, so you should come in and have tea.'"
Both candidates are Democrats, a distinct advantage in the city with a significant Democrat edge in voter registration, and an overwhelmingly Democratic 4th District.
Both were endorsed last week by Alliance Network, which, for the past 15 years has sought to give a political voice to the local communities of color. Over the years their support has generally gone to Democrats, particularly when they endorsed Matt Driscoll in the 2001 mayoral primary against party designee Kate O'Connell, a move the group's founder Walt Dixie said was made "to get a seat at the table." While maintaining that voters of color determined Driscoll's victory, however, Dixie later reflected they didn't get the seat at the table. So far this year, the group has endorsed only Bey and Hudson, both candidates of color.
Ironically, Bey observed at a press conference called to announce the endorsements, the overwhelmingly Democratic voter edge in the 4th District — the Westcott Nation, Downtown, most of the old 15th Ward, the South Side down to Matson Avenue and Outer Comstock — had been working against him until recently. "People were taking it for granted because there's no Republican in the race," he noted. But two years ago, with no Republican in the race Green Party candidate Howie Hawkins tallied more than 40 percent of the vote against three-time incumbent Tom Seals. "Now they're waking up," he maintained. "Our numbers say we're ahead, but it's not guaranteed."
(Continued on Next Page)
Prev Next
Vote on this Story by clicking on the Icon