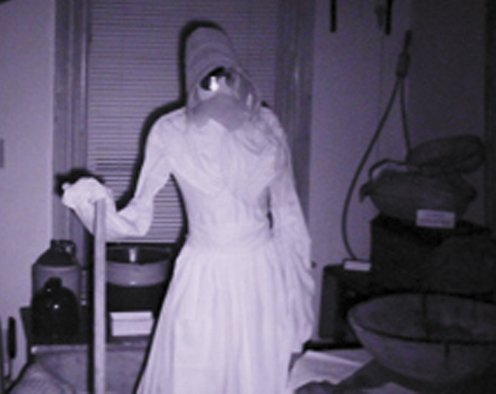 continued — So far in their work, the members have experienced a number of paranormal phenomena, Brewer said. They have heard noises, seen apparitions, been scratched and pushed, watched their equipment be moved and received sound responses to specific questions.
"It's more exciting than scary," Brewer said. "I don't think any of us have ever been scared yet on an investigation."
Some paranormal stories from the Sherwood Inn
Lucinda Ryan, who has worked at the Sherwood Inn front desk for the past 16 years, said while she has never experienced anything supernatural herself, she has heard numerous first-hand stories of others who have.
Ryan said the Sherwood Inn was used as a hospital during the influenza epidemic of 1918. One time she spoke to a couple who had to have sleep apnea apparatus operating in their room throughout the night. When the couple checked out the next morning, they were not disturbed, Ryan said, but they wanted her to know that they had woken up three times during the night because the machine kept getting turned off and "there was a child sitting at the end of the bed."
Some of the Inn's night auditors have seen an Asian man sitting on the sofa in the front lobby late at night; and the kitchen staff have experienced some strange phenomena and even "sitings" in the basement storerooms, Ryan said.
A few years ago, some paranormal researchers came to the Sherwood to look around and said they definitely sensed something upstairs, Ryan said.
"I think there is definitely activity here, but nothing to be frightened about. Everything reported has been absolutely benign," Ryan said.
Brewer's best experience so far was during an investigation of a historic museum in Port Byron. He and a team member were both in the kitchen when he felt his identification badge, which was pined to his collar, being pulled by an unseen force. At the same time, his fellow researcher saw a figure walk right past Brewer. "It happened one right after the other," he said.
Vote on this Story by clicking on the Icon