Auburn — Are there ghosts and haunted buildings in Skaneateles? The members of the newly established Empire State Paranormal Research Society have heard stories and rumors that there are.
While there have been no investigations so far, they hope to begin soon.
"I'm kind of surprised we've never been contacted by anyone in Skaneateles," said Steve Brewer, paranormal investigator and ESPRS founding member. "We have received tips and reports about the Sherwood Inn as well as some houses in town."
Empire State Paranormal Research Society, based in Auburn, is a nonprofit organization that uses science and history to investigate claims of paranormal activity in the Finger Lakes and Central regions of New York state.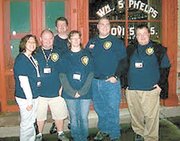 ESPRS currently has seven members: Steve Brewer, Cathy Davis, Shawn Davis, Dan Edersheim, Brendan Granato, Richard James and Michelle Renslow.
All the members have full-time jobs outside of ghost hunting, and all previously belonged to other paranormal research groups before forming ESPRS. As a nonprofit organization, the group does not charge any fee for its services.
"We do this because we like helping people, and all of us have had some sort of childhood experiences with the paranormal," Brewer said.
The ESPRS was formed this past August, and already has investigations completed or scheduled in Auburn, Binghamton, Jordan, Oswego, Palmyra and Weedsport.
"We receive a wide variety of reports," Brewer said. "Most people just want to know what's going on in their house, to know they're not crazy, and sometimes to try to have the spirit removed."
The ESPRS, like the crew of the popular television show "Ghost Hunters," enters into an investigation with the intent to disprove rather than prove paranormal activity, Brewer said. They use infrared cameras, parabolic microphones, Mel Meters (EMF and temperature gauge) and other technological devices to assist them. They also look into the history of a location because they believe that history influences the paranormal and can cause activity.
(Continued on Next Page)
Prev Next
Vote on this Story by clicking on the Icon