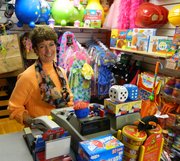 Skaneateles — Skaneateles' newest retail shop, Hobby House Toys on Jordan Street, is an "old fashioned" toy store where people of all ages — from toddlers to senior citizens — can find something to enjoy, to desire, or to nostalgically reminisce over.
"I just love the expressions on little kids' faces when they find something in the store and get so excited about it; and I also love watching the parents' expressions when that happens," said Sue O'Neil, owner of Hobby House Toys. "We also get a lot of people who come in and see items in the store they remember as a kid. It's all just so great, it makes good memories."
Hobby House Toys, which opened on Oct. 8, is the third toy store for Sue O'Neil and her husband John, who also have locations in Pittsford and Fairport, suburbs of Rochester. The O'Neils both are originally from Syracuse, and had been scouting possible small-town locations in the CNY area for their next store when the space on Jordan Street next to The Irish Store opened up.
The couple originally wanted their third store to be in Skaneateles, but for a long time there simply were no retail spaces available.
"Everybody has been so welcoming here in Skaneateles," O'Neil said. "We've been very pleased. The response so far has been wonderful."
The Hobby House Toys Skaneateles location is the smallest of the O'Neil's three stores at 700 square feet, but visitors still can find thousands of toys from 150 different vendors on the shelves.
They have Playmobile toys, Chiggington trains, Barbie dolls, Legos, Calico Critters, and Polly Pockets. There are rubber balls, hula hoops and slinkys; stuffed animals, baby dolls, Ravensburger puzzles and games, model rockets, science experiment kits and a large crafts section.
Part of the shop's uniqueness is the near-total absence of anything electronic on the shelves.
(Continued on Next Page)
Prev Next
Vote on this Story by clicking on the Icon