continued — Stevens falls in with Bragg-Adams on individual windmills, and frowns at the thought of a wind farm high in the Spafford hills.
"I'm not in favor of it to tell you the truth," he said. "I think they have a purpose, but to have one of them in the town of Spafford between two of the most beautiful lakes there is in New York state would take away from the beauty of this area."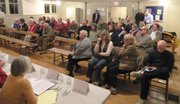 Larrison said one of her priorities, should she be elected, would be to encourage small business in Spafford. One of the first things she would like to do is restore Borodino's well-known "four corners" at the junction of State Route 41, Nunnery Road, and Rose Hill Road. The four corners used to have a trio of small businesses; none of them remain. Larrison said some of the properties in and around the area have fallen into dilapidated states.
"The four corners is the gateway to Spafford in many ways," she said. "There are some properties that are overgrown, neglected, and maybe abandoned. Some parts of it have been allowed to get out of control."
Once the 90-minute forum ended, the candidates engaged in a meet-and-greet with the spectators, and everyone enjoyed complimentary cider and donuts.
A pair of rookie candidates said they enjoyed the debate experience.
"It's a great country when you can say exactly how you feel," Fesko said. "I thought this was wonderful. You have to be yourself. We don't play politics here."
Abbott agreed. "I thought it was great. Everybody was very open," he said. "We're definitely opinionated in different areas up here."
Bragg-Adams said she is enjoying her first campaign.
"It seems sort of corny but I really love the whole notion of representative democracy," Bragg-Adams said. "I'd love to have the opportunity to serve my community. I have a long standing interest in community service."
Stevens is running unopposed. That hasn't stopped him from being part of the campaign. "I'm working pretty hard for all the candidates," Stevens said. "I hope we're successful."
Kris Russell is an Eagle Newspapers contributor. He can be reached through the editor at editor@skaneatelespress.com.
Vote on this Story by clicking on the Icon