Spafford — A near standing-room-only crowd in Borodino Hall Tuesday night, Oct. 18, saw eight election candidates express their opinions as to why they should be elected to three different Spafford town offices.
The forum was a "Meet the Candidates" night sponsored by the local group, Citizens to Protect Spafford Watersheds, and attracted about 50 attendees.
First time candidate Kathy Bragg-Adams neatly summed up what she believed was the gathering's purpose.
"It's wonderful to see everyone here to celebrate the spirit of democracy at the local level," she said.
Six candidates are vying for board seats — Republicans Joyce Larrison, Frederic "Tom" Abbott and Jeff Ireland; and Democrats Chris Fesko, Louis Hanlon and Bragg-Adams.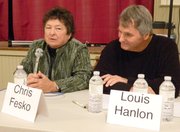 Larrison and Fesko are opponents in a special election to fill the spot formerly held by Fesko's late husband Rick, who unexpectedly died this past May. The winner of that race will serve a two-year term. The other board candidates are vying for full four-year terms.
Town supervisor Webb Stevens and highway superintendent Carl Wiers took part in the session even though they are running unopposed.

Each candidate had two minutes apiece for their opening and closing remarks. In between they answered questions previously submitted by town residents or written by moderator and Skaneateles Press editor Jason Emerson.
Not surprisingly, much of the question-and-answer session centered on hydrofracking.
Spafford's board recently voted for a 180-day moratorium on the controversial method that extracts natural gas from shale. First time candidate Tom Abbott, who had a long working career in the chemical industry, said he was no fan of the process.
"Hydrofracking scares me," Abbott said. "Chemicals are dangerous, especially around our water. That's a reason I want to get on the board. I want to keep ahead of it."
Stevens voted for the moratorium in September. He made it clear he will continue to do what he thinks is in Spafford's best interests.
(Continued on Next Page)
Prev Next
Vote on this Story by clicking on the Icon