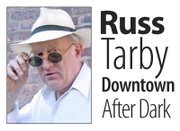 SYRACUSE — If the downfall of Russia's Romanov Dynasty had no hemophiliac prince and no controversial cleric, it would still be a story brimming with romance, revenge and revolution. But the presence of the bleeding boy Alexie and the over-sexed holy man Rasputin elevate the tale of the royal family's fate to epic proportions.
No wonder the abdication of Tsar Nicholas II during the 1917 Russian Revolution has inspired so many marvelous movies, from 1932's "Rasputin and the Empress" to the Disney-animated "Anastasia" in 1997.
Now, Syracuse's award-winning playwright and producer Garrett Heater adds his meticulously researched stage play, "The Romanovs," to the list of dramas documenting the Tsar's inevitable undoing.
Flawed characters
Presented by the Covey Theatre Company at the Mulroy Civic Center, downtown, "The Romanovs" stars David Witanowski as Tsar Nicholas II, known here as "Nicky," and Katharine Gibson as Empress Alexandra, known here as "Alex," and Bruce Paulsen as Rasputin, known here as "our friend."
All three principals create characters overflowing with authenticity while plagued by individual weaknesses. Witanowski's tsar is kindly, overcautious and ultimately indecisive. Gibson's empress evinces a degree of intensity unusual for turn-of-the-century women. Alex is both headstrong and heart-sick. Her resolve weakens rapidly, however, when her meddlesome friend, Anna (a delightful Kate Huddleston) introduces her to the charismatic Rasputin. For his part, Paulsen turns the priapic priest into a monstrous manipulator whose motivations rarely stray from drunkenness and debauchery.
Support cast sparkles
While the leads — especially Gibson — charge the two-act play with an electric verisimilitude, several supporting players also sparkle.
As Alexandra's sister, the Grand Duchess Elizabeth, actress Amy Blumer plays two terrific scenes with Gibson, one in which Elizabeth describes the bloody aftermath of her husband's 1905 assassination by bomb and one in which she says goodbye to the empress forever after clashing with her over Rasputin in 1918.
(Continued on Next Page)
Prev Next
Vote on this Story by clicking on the Icon