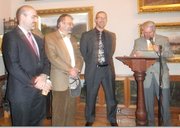 Skaneateles — The Skaneateles Library Association raised approximately $16,000 last Saturday, Oct. 15, during its second annual One for the Books fundraiser.
The proceeds will be put toward expanding library services and continued physical improvements to the building.
"It was a phenomenal success this year once again, and we certainly built on the success we had last year," said Kathy Mosher, library director. "The evening just glittered. There was a lot of good feeling, great conversation and enthusiasm. It was one of those wonderful experiences that creates a glow."
The One for the Books fundraiser, inaugurated last year, is a one-night book club event featuring numerous books, dinners at different local homes and venues along with enlightening conversation by authors or expert speakers.
For this year's event, more than 160 people participated — hosts, speakers and attendees. There were 10 books and 10 residential dinner venues, seven of which were sold out. At the end of the evening, all participants gathered in the Barrow Art Gallery at the library for coffee, dessert and conversation.
Attendance for this year's One for the Books increased by about 20 people over last year, and donations increased by approximately $2,000, Moshier said.
At the event, each book is paired with an author or expert on the book, a dinner host and attendees who have selected a book from the published list. Conversation is informal and held over drinks and dinner. People who sign up for the event choose their favorite title from the list, with their book choice determining their dinner location.
National authors for this year's event included Amy Dickinson, syndicated columnist and author of "The Mighty Queens of Freeville;" National Book Foundation winner Sarah Braunstein; and Jon Michaud of The New Yorker whose book "When Tito Loved Clara" has appeared in Oprah's O Magazine's "Books to Watch For" in March 2011.
Local authors and speakers included Sean Kirst, Kihm Winship, John Weeks, Christine Moulton of the National Women's Hall of Fame and Jason Emerson, editor of the Skaneateles Press.
All proceeds from the event will go to support the Skaneateles Library.
Books from the event still are available through the Skaneateles Library or at Creekside Books & Coffee.
Jason Emerson is editor of the Skaneateles Press. He can be reached at editor@skaneatelespress.com.
Vote on this Story by clicking on the Icon