SYRACUSE — Local artist Ty Marshal's Cardiff Giant recreation project was finally unearthed yesterday, Sunday, Oct. 16, at Lipe Art Park on the West Side.
The "discovery" was made at 10 a.m. with the help of volunteer diggers dressed in period costume, and the rest of opening day featured Giant-themed merchandise and memorabilia, music, and a "curiosities" display (complete with mummy hand on loan from Onondaga Historical Association).
Read our original story about Ty Marshal's project here.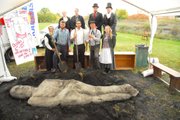 Marshal said around 4 p.m., as the temperature dropped and the rain and wind picked up, that "throngs of people" made it out to the kick-off event earlier in the day, though even as the weather turned less pleasant cars continued to pull into the park.
"There's a Sucker Born Every Minute: Recreating the Cardiff Giant" was funded in large part by a Kickstarter grant, with the help of OHA and other sponsors. The giant and its associated sideshow will be on display daily from 10 a.m. to 6 p.m. at Lipe through Sunday, Oct. 23, when at 11 a.m. it will be exhumed and carted downtown via horse and carriage to The Atrium at City Hall Commons. There, the giant will remain through the end of October, and public viewing will be daily from 11 a.m. to 5 p.m.
Oggle the giant while it's still a bargain: admission costs only 25 cents per person at Lipe. At The Atrium, a peek will cost you double.
A host of related events are planned, including:
A screening of the 1934 film "David Harum" at 5:30 p.m. Thursday, Oct. 19, at Onondaga Historical Association, 321 Montgomery St., with host Nancy Keefe Rhodes.
A reading of Mark Twain's "A Ghost Story" at 5:30 p.m. Saturday, Oct. 22, at Lipe Art Park on West Fayette Street, featuring special guests Mayor Stephanie Miner and County Legislator Tom Buckel.
"Exhuming and Transporting the Giant" beginning at 11 a.m. Sunday, Oct. 23, at Lipe Art Park and ending at The Atrium at City Hall Commons in Hanover Square.
A reading of Thomas Hischak's play "The Cardiff Giant" at 7 p.m. Wednesday, Oct. 26, at the Center for the Arts in Homer.
A "Giant Day" in Homer, a day-long event beginning at 1 p.m. with a Giant replica, a tour of David Hannum's former home from 6 to 7 p.m., and a screening of "David Harum" with Nancy Keefe Rhodes at 7 p.m.
Visit syracusecardiffgiant.com for more information.
Vote on this Story by clicking on the Icon