More than 700 Fayetteville-Manlius School District students, their families and district staff recently participated in the Syracuse Festival of Races MVP Health Care 3K Fun & Fitness Run, and for the 11th consecutive year, Fayetteville Elementary won the Festival Cup trophy for having the most event participants.
There were more than 500 Fay El students, parents, and staff registered for the race, which took place Oct. 2 at Syracuse University's Manley Field House. Mott Road Elementary School also participated in the event, with 223 registrants representing the school. There were 17 local schools total taking part in the event.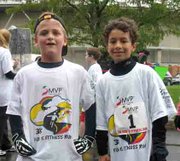 "The Festival of Races is a great opportunity for families and friends to socialize while exercising at the same time," said Fay El physical education teacher Matt Murphy.
To motivate students, their families and school staff for the race, three Fay El staff members coordinated the Run, Walk, Jog Club. Prior to the race, physical education teacher Laurie Valentine, school nurse Wanda Jukam and third grade teacher Matt Titus, as well as a number of parents, worked with students for six 45-minute after school sessions outside the school. About 90 students took part in the sessions, which featured two different running courses of .2 and .5 miles.
Murphy said he hopes the event helped students to develop an appreciation of physical activity — for health, enjoyment, challenge and social interaction.
As the winner of the Festival Cup, Fay El will have the opportunity to design the 2012 3K T-shirt, according to the event website.
Vote on this Story by clicking on the Icon