SYRACUSE — Imagine you're being courted by the Destiny leasing team as a potential tenant in the combination entertainment, shopping and dining destination. How do you think the team would sell you on Syracuse?
Mark Strang is in charge of compiling data to convince tenants and big-name brands that Destiny, and Syracuse, is an opportunity they don't want to miss.
"You could call me the director of marketing of Destiny," Strang said.
"So, currently that's creating the marketing strategy for the leasing team, for the project development team and then also that will transition as we get open to driving traffic to the center."
Strang and a five-person leasing team, along with developers Bob Congel and Bruce Keenan, are responsible for showing potential tenants what they need to see and hear about Syracuse and Destiny to sell them on the idea of opening up shop here.
"We basically present the things that we think will most influence tenants to come here," Strang said. "We have a limited amount of time to talk to them; they have a limited attention span so the briefer we can keep it, the better. So we present the things we think are most impactful about our project and about the area to them."
The Destiny project's somewhat tarnished reputation may not extend very far outside of Onondaga County, but locals may be surprised by which attractions top the list of highlights of the Syracuse area, as it relates to drawing in outside brands and business.
Strang took a step-by-step look at the presentation he typically gives to a potential tenant that may need a little coaxing to see all of what Syracuse has to offer their brand: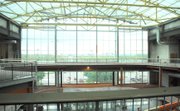 The history of Oil City
"We take them through the site history, because they start to understand our commitment to Syracuse and to the property," Strang explained. The story of Oil City, and the developers' decision to build on the location, shows the uniqueness of Destiny and Carousel, and shows a 25-year commitment to the project, he said.
(Continued on Next Page)
Prev Next
Vote on this Story by clicking on the Icon