Skaneateles — Lisa and Mary Beth Alibrandi have been a same-sex couple living in Skaneateles for 29 years. They have four natural children and were married by a church in 2002 on their 20th anniversary.
Last week, on Friday Oct. 7, they went to the Skaneateles town clerk's office in town hall, presented their identifications, filled out the appropriate paperwork, paid the $40 fee and were issued the first same-sex marriage license by the Skaneateles town clerk since the new state law allowing gay marriage took effect in July.
"It's quite an historic thing. This township being as old as it is — I know this is the first license of this type. In much the same way there was a first bi-racial couple, or first voting rights to blacks or women. This is history," said Lisa Alibrandi.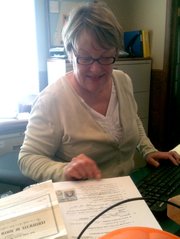 "I was glad to know both of them; it's so nice to have the first license be someone I knew," said Skaneateles Town Clerk Janet Aaron. "Although I certainly thought I'd be issuing one before this."
The gay marriage law was passed by the New York State Assembly on June 15 and by the state Senate on June 24. Gov. Andrew Cuomo signed the bill into law at 11:55 p.m. on Friday, June 24, and it went into effect on July 24, making New York the sixth and largest state to approve same-sex marriage in the United States.
Lisa Alibrandi, a waiter and bartender at Rosalie's Cucina, said the decision to get the marriage license for her and her partner Mary Beth, a registered nurse, was an "on the fly" idea that day, and "the intention was always to get married when we could anyway."
Alibrandi said Town Clerk Aaron was "all smiles" and "very accommodating" when completing the marriage license. "It was a very pleasant and smooth experience."
(Continued on Next Page)
Prev Next
Vote on this Story by clicking on the Icon