Cazenovia — On the evening of Wednesday, Oct. 12, New York State Police charged Brian H. Tait, owner of Tait Funeral Home in Cazenovia, with two misdemeanor counts of sexual misconduct.
Tait, 46, of 4478 Lincklaen Road, is accused of forcible touching, a class A misdemeanor, and third degree sexual abuse, a class B misdemeanor.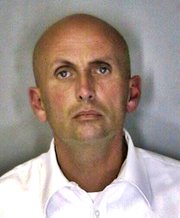 He was issued an appearance ticket, returnable to the Town of Cazenovia Court for 7 p.m. Oct. 25.
Initial allegations were brought forth by a 24-year-old female former employee, who claims Tait subjected her to inappropriate physical exams as conditions of her employment, in September while she worked at the 2333 Fenner Road location.
New York State Police Captain Mark Lincoln has revealed that other former employees have come forth, substantiating the 24-year-old female victim's accusations.
Although it is unknown how many funeral home workers have cooperated with investigators, Lincoln said more than one former employee has said that Tait required workers to disrobe and submit to some improper touching, and even mentioned the exams during job interviews.
According to investigators, Tait justified the examinations to prospective employees as a safety precaution, to ensure they weren't allergic to substances involved in the embalming process, such as formaldehyde. While some of those interviewed claim they were subjected to Tait's inspections, others tell they were aware of the possibility, but were never forced to submit to the exam.
At this time, State Police are soliciting information from all former employees with any information.
To contact investigators, call 366-6000.
Vote on this Story by clicking on the Icon