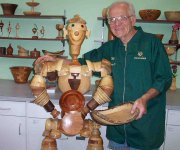 Manlius — The 35th annual Fine Arts and Crafts Festival will be held from 10 a.m. to 5 p.m. Saturday, Oct. 22, and from 11 a.m. to 4 p.m. Sunday, Oct. 23, at the Manlius Village Centre.  Cost of admission is $2 for Manlius Historical Society members and $3 for non-members.
Peter Monteleone is one of many vendors slated to attend the festival. He will once again bring his fine woodturned bowls and other unique items. Monteleone, whose studio and showroom are located on Roberts Stree in DeWitt, has been a woodturner for 13 years.
A member of the American Association of Woodturners and CNY Woodturners, Monteleone has fine tuned his woodturning skills at two craft schools and numerous workshops. He believes that his craft brings out the natural beauty of the wood hidden inside of trees.  His philosophy is: "I make the shapes … mother nature does the artwork".
Vote on this Story by clicking on the Icon