Cazenovia — There are a number of fresh faces on the Cazenovia junior varsity boys soccer team this year, and not only the eighth-grade players are new.
Head coach and native Cazenovian, Danny Polsin, has led the Laker team to a winning record of 9-1-1 (so far) in his first year on the job.
He credits the talented roster, and their shared love of soccer for the continued success the team is experiencing this season.
"I've got a great bunch of players. I came into an awesome situation, with talented players who want to be on the field. They can be goofy sometimes, but when it gets down to gametime, they get intense and they want to win," Polsin said. "Just coming back to be a part of the Cazenovia program is rewarding, though. This place has given so much to me over the years, I'm happy to give back."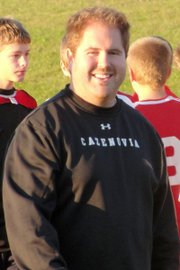 Polsin manages 20 boys, ages 13 to 15 on a daily basis during practice at the Sean Googin Sports Complex. Having just recently defeated the rival Lakers of Skaneateles, the team has only experienced one loss and one draw this season.
The squad's gameplay illustrates their firm grasp on fundamentals, knowledge of the sport's strategies and their ability to execute Polsin's custom-designed plays.
Eli LaGorga, a freshman striker and one of the team's leading scorers, attributes Polsin's authoritative yet understanding approach to coaching for their success this season. "He is a great coach. He gets us pumped up and excited for every game. Even though we were jokers at the beginning of the season, he straightened us out during practices," he said. "Once we had the loss against Westhill, he got us on a workout plan. We've been doing great since; it feels like no one can touch us."
While he was a student of the Cazenovia Central School District, Polsin played soccer almost every season from kindergarten through senior year. His final year on the varsity team, he was named a captain.
(Continued on Next Page)
Prev Next
Vote on this Story by clicking on the Icon