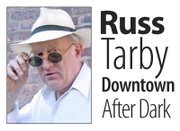 SYRACUSE — A grass-roots movement protesting greed and corruption on Wall Street is sweeping the nation.
Here in the Salt City, a group calling itself Occupy Syracuse set up camp on Oct. 2, in Perseverance Park, at the corner of Fayette and South Salina streets in the center of downtown's financial district.
On Tuesday evening, Oct. 4, some four-dozen folks turned out to listen to speakers castigate capitalism and government complicity. A sign prominently posted next to a blue tarp near Centro's main bus stop pleaded for "Jobs Not War."
Redhouse rants recalled
A couple years ago one of America's most outspoken folksingers, Georgia-born Chris Chandler, appeared with his pianist and his videos at the Redhouse in downtown Syracuse to perform bits such as "9th Ward New Orleans" which critiques the federal government for its lack of response to Hurricane Katrina. Later Chandler astounded an audience at Shifty's Tavern by jumping atop the bar as he ranted against corporate malfeasance.
His spoken-word piece, "Something's In the Air, But It's Not on the Airwaves," as recorded on his "American Storyteller" CD weaves 1960s Vietnam War protest music with commentary about the Iraq war. But this month he updated it to focus on the Occupy Wall Street movement. Here it is:
'Something's in the Air'
If you, oh mighty 1 percent, did not want us to take to the streets you should not have put us out on the streets. You have invaded this country and won in a corporate takeover of government. And you, oh mighty 1 percent, are now the leaders in your newly formed Corpocracy.
You have won – to the point we should change our name in honor of the victors. We should change our name from the United States of America to The Bank of America.
Our so-called elected officials have been reduced to the role of doddering greeters at The Great Wal-Mart of China.
(Continued on Next Page)
Prev Next
Vote on this Story by clicking on the Icon