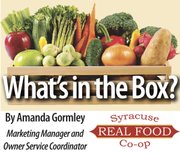 SYRACUSE — Community Supported Agriculture (CSA) is a socio-economic model that allows people to buy food direct from farmers. Customers pay for a yearly 'share' of the farm's crops, and collect a weekly harvest prepared by the farmer.
Amanda Gormley, marketing and member/owner service coordinator at the Syracuse Real Food Cooperative, brings you this guide to CSA's most baffling offerings.
This week: Celeriac
If a vegetable's beauty is related to its flavor, no one would even bother with celeriac. The bulb is rough and rooty on the outside, and usually carries a small tuft of greens resembling a toupee. Thankfully, though, its flavor is much nicer than its looks.
Celeriac is very closely related to celery. It tastes the same, but without the stringy texture of a celery stalk.
The outside of the celeriac root should be trimmed away with a sharp knife — like cutting a pineapple. (The skin is too thick for a peeler.) Once peeled, celeriac can be enjoyed raw, cooked into soups, sliced and used in salads, or used as a substitute for celery.
I especially like it shredded and added to chicken salad for the crisp celery flavor, minus stringy stalks in my teeth.
If you're a frequent visitor to New York City, keep an eye out for Dr. Browns Cel-Ray, a sassy celery flavored soda. It was a popular drink in Brooklyn delicatessens in the mid-1800s and is still available today in some places.
Vote on this Story by clicking on the Icon