Baldwinsville — Two schools in the Baldwinsville Central School District devoted the morning of Sept. 23 to health education and wellness activities to promote a healthy lifestyle.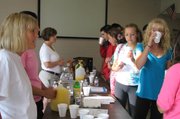 This is the third year that Baker High School has held a wellness day. Students had the opportunity to participate in a variety of physical activities and wellness workshops including reflexology, planning for healthy eating, yoga and a workout they could easily duplicate at home with minimal equipment. The school's cafeteria was the site of taste-testing healthy snacks such as fat-free milk, turkey sausage, tea, hummus and a natural sports drink.
For the second consecutive year, Palmer Elementary School held an in-school wellness day for its students. Activities included tips on healthy snacking, healthy food sampling, Zumba, resistance training and bullying education. One of the school's main hallways was lined with displays of health education information including food allergies, dental health, dairy products and a visual display of the fat content in favorite foods.
The wellness days at Baker and Palmer promoted the district's wellness policy, which the district adopted in 2006. The policy emphasizes creating and maintaining a learning environment that models and encourages healthy eating and physical activity habits.
Over the summer, both schools received Fuel Up to Play 60 grants to aid in the funding of their wellness activities. Fuel Up to Play 60 is an in-school nutrition and physical activity program of the National Dairy Council and the National Football League.
Kelly Cary is the information officer for the Baldwinsville Central School District.
Vote on this Story by clicking on the Icon