SYRACUSE — The advantages of using social media to promote a political campaign are obvious: candidates can reach a new, often younger, demographic of voters and interact with them directly in real time in a more personal, humanizing way than a palm card allows.
And many candidates have figured that out, and used it to their advantage. But what about here on the local scale?
I scoured Internet search engines, Facebook pages and groups, and Twitter usernames to find out which local candidates were using social media. The results were somewhat surprising and definitely varied.
Many candidates opt for using Facebook as more of a directory listing than an interactive platform, posting their picture, an email address and not much else. Others go all out and use Facebook and Twitter accounts to share news stories, promote fundraising events, and engage in conversations with their potential constituents.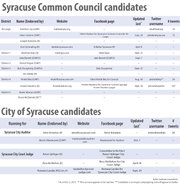 Then there are some candidates (well, one in particular) who don't see the purpose of sharing even a phone number or email address with voters until after they've been elected, and rather gruffly demand why they should be sharing their contact information with the public. (Yikes.)
Voters can't cast educated votes if they don't know where the candidates stand on issues. And if you can't connect with your candidates, how can you learn about their positions?
Seems simple enough, so I set out to create a simple compilation of which candidates are using what social media, if any, and how actively.
These charts reveal some of the results. (Similar charts for 5th Judicial District State Supreme Court candidates and Syracuse City School District candidates are available online at theeaglecny.com.)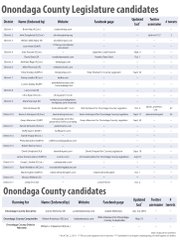 Onondaga County Legislature candidate Bob Andrews (9th district), who's running his first-ever campaign, is one of the handful of social media super-users voters will see on their ballots come Election Day.
Ami Olson is editor of <em>The Eagle</em>.
(Continued on Next Page)
Prev Next
Vote on this Story by clicking on the Icon