DeWitt — The DeWitt Community Library will host a free informational event on Gluten Free Living and Celiac Disease at 7 p.m. Tuesday, Oct. 11.

Librarian assistant Kelly Sickler, diagnosed with Celiac Disease earlier this year, knows firsthand the challenge of finding foods that will not aggravate the condition. Her successful search for gluten-free food in Syracuse area restaurants and grocery stores led her to create the program.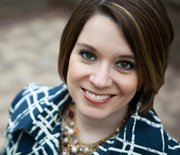 "I wanted to share what I'd found with other Central New Yorker's who might also be searching for gluten-free alternatives," Sickler said. "I was pleased to discover a few local food purveyors who cater to the gluten-free diet. Celiac Disease is more common than one would think."
Participating vendors include CNY Celiac Support Group, Gluten Free Epiphany, Green Hills Supermarket, Nature-Tyme, and Yum-Yum's Gluten Free Bakery. Gluten-free food samples will be available as well as free copies of Gluten-Free Living magazine. Attendees will have the opportunity to visit with the vendors and gather information on food recommended for those suffering from Celiac disease and needing a gluten-free lifestyle.
According to the CNY Celiac Support group website an estimated three million Americans have Celiac Disease — and the vast majority don't know they have the disease because it can have no symptoms or mimic other diseases.
The library has begun to gather a non-fiction collection on this topic which cardholders are welcome to check out.
Registration for the program is encouraged; call 446-3578 or register online at dewlib.org. The DeWitt Community Library is located at ShoppingTown Mall, 3649 Erie Blvd. East, DeWitt.
Carol Youngs is a public relations specialist for DeWitt Community Library.
Vote on this Story by clicking on the Icon